Places to Visit
Alaska Raptor Center - https://alaskaraptor.org/
Contact: 907-747-8662
Location: 1000 Raptor Way
A pioneering wildlife project, the Raptor Center has for years proven that dedicated volunteer effort and innovative veterinary medicine can make a life-or-death difference on Alaska's raptors (birds of prey). The center's goal is to release into the wild all rehabilitated birds; however, a few never recover flight and remain housed at the center's outdoor display. One of Sitka's popular attractions, visitors are welcome at the Raptor Center's expanded facility and the center's latest flight barn addition.
Fortress of The Bear - http://www.fortressofthebear.org/
Contact: 907-747-3032
Location: 4639 Sawmill Creek Road
A 501(c)(3) non-profit education and rescue center with an exquisite three-quarter acre habitat for orphaned brown bear cubs complete with covered viewing areas.  Alaska brown bear viewing in a natural type setting.  A three-quarter acre exhibit replicates the Southeast Alaska brown bear habitat.  View brown bears as you would encounter them in the wild!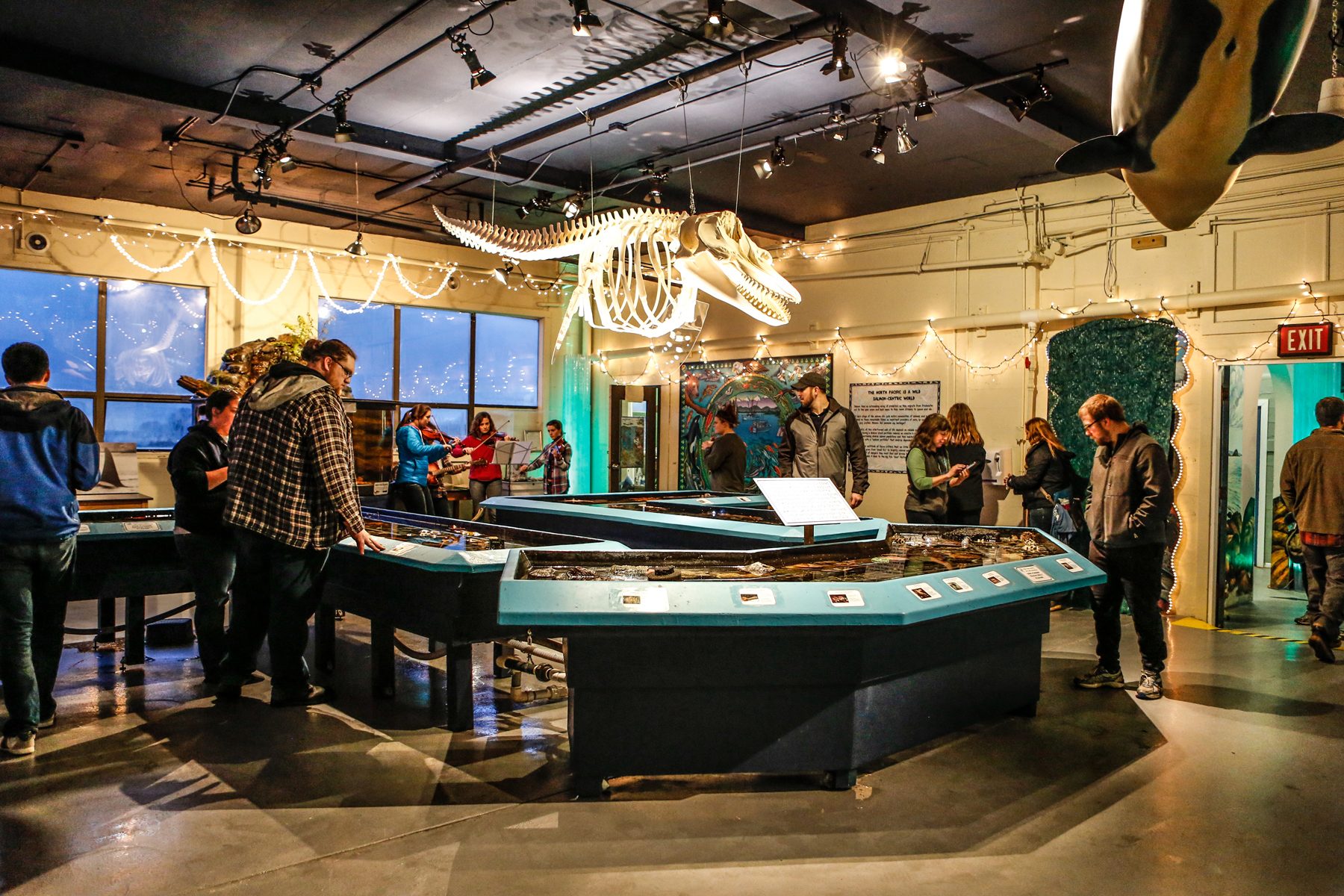 Sitka Sound Science Center - https://sitkascience.org/
Contact: 907-747-8878
Location: 834 Lincoln Street
Experience the spectacular diversity of the many amazing creatures that thrive in the waters surrounding Sitka. See an artist's mural of the Southeast Alaska ecosystem, an 800-gallon Wall of Water exhibit. Feel the spiny skin of a starfish, the soft tentacles of a sea anemone, and the coarse shell of an abalone as your hands roam through the three ocean water touch tanks. View the feeding of four species of salmon in the non-profit hatchery. Hatchery access is through chain link gates on either side of the Sage Building. The Aquarium and Wetlab access is through the front doors. Summer hours: 8am – 5pm on large cruise ship days.  Visitors may walk the grounds of the hatchery for a self-guided tour. Located in the historic Indian River District, the center is a fifteen-minute walk from downtown on the way to the Raptor Center, Sheldon Jackson Museum, and the Sitka National Historical Park.
Naa Kahidi Dancers - http://www.sitkatours.com/
Contact: 907-747-7137
Location: 200 Katlian Street
The Tlingit Dancers perform in connection with Sitka Tribal Tours at the Sheet'ka Kwaan Naa Kahidi Community House. Hear the songs of tradition handed down by generations of a living culture. Half-hour performance.
New Archangel Dancers - http://www.newarchangeldancers.com/index.html
Contact: 907-747-5516
Location: 208 Smith Street
Celebrating Sitka's Russian heritage by performing lively, authentic, and professionally choreographed folk dances from Russia and surrounding regions. Regular summer shows are performed at Harrigan Centennial Hall in downtown Sitka.
Castle Hill
Contact: 907-747-6249
Location: 100 Lincoln Street
(Baranof Castle Site) An early stronghold of the Kiksadi clan. A succession of Russian buildings were later erected on this site. The last one, known as "Baranof's Castle," was erected in 1837, and perished in a fire in 1898. On October 18, 1867, it was the site of the transfer of Alaska to the United States. Each year, Alaska Day is still celebrated on October 18. This historical site is managed by Alaska State Parks and is on the National Register of Historical Places.
St. Michael's Russian Orthodox Cathedral - https://stmichaelcathedral.org/
Contact: 907-747-8120
Location: 240 Lincoln Street
An important collection of Russian Orthodox art and rare church treasures. Built in 1844-48, the church was totally destroyed by fire in January of 1966. Many of the precious icons and religious objects were salvaged and are in the rebuilt structure. Summer hours: 9am – 4pm on large cruise ship days, or check posted hours on the church door.
St. Peter's by The Sea Episcopal Church
Location: 611 Lincoln Street
Since Sitka was the capital of Territorial Alaska in 1895, it was chosen as the "See City" by Bishop Rowe. The first service was held in St. Peter's in 1899. In 1901, St. Peter's was chartered as Alaska's Pro Cathedral. Located directly behind the church is the bishop's residence, referred to as the "See House," built in 1905 by Bishop Rowe. The church continues to be used by many for quiet and prayer, regular worship, and a place of meeting for community organizations. According to legend, Joseph of Arimathea's staff took root and blossomed. In April of 1999, St. Peters' by the Sea received the third planting from this Holy Thorn of Glastonbury and planted it on the church's grounds.
Sitka National Historical Park
Location: 106 Metlakatla Street
This scenic 107-acre park preserves and interprets the site of a Tlingit Indian fort and the battle fought between the Russians and the Tlingits in 1804. A fine collection of Haida and Tlingit totem poles was moved there from the Louisiana Exposition in St. Louis in 1904, and in April, 1996, a locally carved totem was raised in traditional ceremonial style. The museum contains an exhibit of Tlingit and Russian artifacts. Please visit the park's auditorium to view the fascinating historical movie depicting Sitka's colorful and rich past.  The main building houses authentic original totems, a fine indoor museum artifact display, and an active Tlingit arts program/studio where the public can watch and talk to local Alaskan Native Indian artists.  A free, self-guided oceanside flat walking trail leads past numerous hand carved totems to the site where the Tlingit fort once stood.  Popular guided ranger walks on various topics are offered throughout the week in the summer months; please check with the park for weekly schedule. Sitka National Historical Park is listed on the National Register of Historical Places.
Sheldon Jackson Museum - https://museums.alaska.gov/sheldon_jackson/sjhome.html
Contact: 907-747-8981
Location: 104 College Drive
Sheldon Jackson Museum, founded in 1888, houses an exceptional collection of Alaska Native ethnographic material gathered by Presbyterian missionary and General Agent of Education for Alaska, the Rev. Dr. Sheldon Jackson. Located at 104 College Drive, the museum is just a short walk along Lincoln Street, midway from downtown and Sitka National Historical Park. The octagon structure was the first concrete building in Alaska, and has been on the National Register of Historic Places since 1972. A gift shop offers handmade Alaska Native art, jewelry, books, and many other treasures!  Summer Hours: Open daily, 9am – 5pm. Closed on Alaska state holidays. Admission: $5.00, adults; $4.00, seniors; ages 18 and younger are admitted free.  Winter Hours: Tuesday – Saturday, 10am – 4pm, Admission: $3.00.  During the summer months, the Native Artist Demonstrators Artist Residency Program features demonstrations, lectures, and workshops.