Transportation
Baranof Taxi and Tours - https://www.baranoftaxi.com/
Contact: 907-738-4722
Baranof Taxi provides taxi cab service to all of Sitka 7 days a week, including Sitka Airport, Ferry Terminal, and Harbor Mountain Access Road. All of our vehicles are non-smoking six passenger mini-vans. Lock out service for most makes and models of vehicles.
Hank's Taxi and Tour Service - https://www.hankscab.com/
Contact: 907-747-8888
My services are clean and green. The focus is on small groups and having an environmentally conscious approach to reducing greenhouse emissions.  This is a one-man operation dedicated to customer experience and safety.
Martin's Taxi & Tours 
Contact: 907-738-0619
Your personal guide to Sitka. We offer informative and scenic driving tours and taxi service.  Multi-day personalized packages available.
Avis Car Rental - https://www.avisalaska.com/
Contact: 907-966-2404
Location: 605 Airport Road at Sitka Airport
Avis Alaska has operated in Alaska for 60 years, making it the state's most experienced car rental company. We are an Avis system licensee, rather than a cookie cutter enterprise, which means we specialize in Alaska. Renting vehicles in Alaska for this long has made us experts in meeting our customers' transportation needs. The only car rental operator at the Sitka Airport we offer cars, trucks, SUV's and minivans for single or multi-days.
Sitka Car Rental - https://sitkacarrental.com/
Contact: 907-738-2282
Location: 605 Airport Road at Sitka Airport
Sitka Car Rental is a locally owned and operated car rental provider, offering discounted prices on used, excellent condition vehicles. We take pride in making Sitka vacations more affordable and enjoyable. So get out there and see the sights of Sitka! Offering daily, weekly, monthly, and annual rentals.
Tours in Alaska Rental Cars - https://www.toursinalaska.com/
Contact: 907-302-3500
Location: Old Sitka Dock
Enjoy the freedom of exploring Sitka on your own schedule. Visit us online for more details.
Ferry Shuttle – Sitka Tours - https://www.sitkatoursalaska.com/
Contact: 907-747-5800
Sitka Tours provides a 24-hour, 7-days-a-week shuttle service for the Alaska State Ferries.  Tour buses are available to introduce Sitka highlights with time for visiting downtown Sitka.  Comfortable rides, expert guides, and reasonable rates.
The Ride - http://ridesitka.com/
Contact: 907-747-7103
Address: 700 Katlian Street, Suite B
Complete information on Public Transit in Sitka, both fixed route buses and paratransit services. Printable brochure with info and maps. Also, interactive map for trip planning and available in Google maps.
Alaska Airlines - https://www.alaskaair.com/
Contact: 1-800-252-7522
Since 1932, Alaska Airlines has been providing passenger and cargo services across North America. Alaska Airlines serves 19 communities in the state of Alaska with connections to destinations in the lower 48, Hawaii, Canada and Mexico.
Alaska Marine Highway - http://dot.alaska.gov/amhs/
Contact: 1-800-642-0066
The Alaska Marine Highway is a big part of Alaska's 'highway system'.  With its southernmost port in Bellingham, WA, the Alaska Marine Highway extends more than 3,500 miles to Dutch Harbor, with over 30 stops along the way. Taking a ferry is an excellent way to see a huge swath of Alaska's coastline while visiting unique communities along the way. It is such a unique set of routes that is has been designated as a National Scenic Byway and an All American Road, the only marine route with this distinction.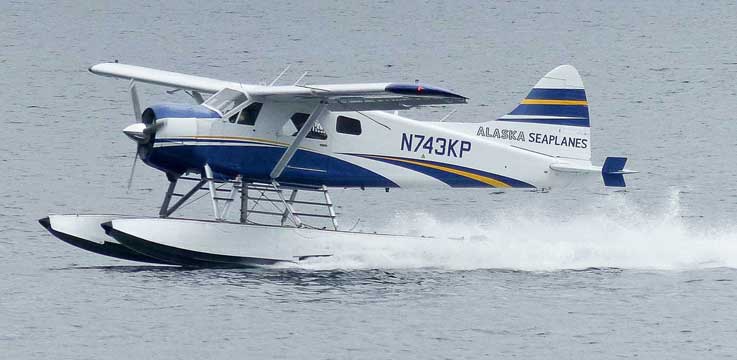 Alaska Seaplanes - https://www.flyalaskaseaplanes.com/
Contact: 1-907-747-2820
Location: 605 Airport Road
Alaska Seaplanes is the premier commuter airline of Southeast Alaska with scheduled, year-round passenger and cargo services.  From Sitka we operate direct flights to Klawock, Kake and Juneau.  Our Juneau flights offer convenient connections to Skagway, Haines, Gustavus, Hoonah, Excursion Inlet, Angoon, Tenakee, Pelican, Elfin Cove and Whitehorse.